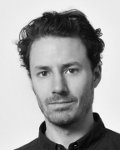 georg fuchsbauer
I am a postdoctoral researcher in the Pietrzak Group at IST Austria.

The scope of my research is provable security in public-key cryptography and its foundations. I have worked on public-key encryption, digital signatures, credentials, electronic cash, and combining game theory with cryptography.

In 2010 I finished my PhD at École normale supérieure, Paris, and then worked in the Cryptography Group at the University of Bristol, where I was also lecturing.
---

contact
Email: firstName

.

lastName ∂ ist . ac

.

at
---

programme committees
PKC 2012, Darmstadt, Germany, 21–23 May 2012.
Africacrypt 2012, Ifrane, Morocco, 10–12 July 2012.
ProveSec 2012, Chengdu, China, 26–28 Sept 2012.
LatinCrypt 2012, Santiago, Chile, 7–10 Oct 2012.
IWSEC 2012, Fukuoka, Japan, 7–9 Nov 2012.
Africacrypt 2014, Marrakech, Morocco, 28–30 May 2014.
ProveSec 2014, Hong Kong, 9–10 Oct 2014 (submission: 20 June 2014).

---

publications
---
teaching
---
thesis
G. Fuchsbauer.  Automorphic Signatures and Applications.  (Awarded Best PhD Thesis 2011 by the ERCIM Security and Trust Management Working Group.)
Here is the English version of my thesis.
---