Groupe de travail: Graphes, Algorithmes, Probabilités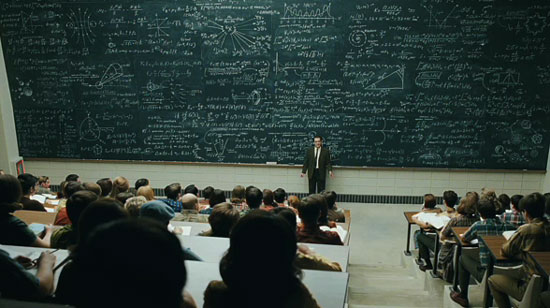 | | | | | |
| --- | --- | --- | --- | --- |
| Date | Titre | Orateur | Heure | Salle |
| 13/09/10 | "Counting independent stets up to the tree threshold" d'après Dror Weitz | Marc | 14h | Verte |
| 20/09/10 | "Matroides" d'après James Oxley | Anne | !!10h!! | LINC |
| 27/09/10 | "Polynomials with the half-plane property and matroid theory" d'après Petter Brändén | Justin | !!10h!! | verte 2 |
| 04/10/10 | "Biased Random Walks on Galton-Watson Trees" d'après Lyons, Pemantle, Peres | Omid | 14h | rose |
| 11/10/10 | "Bootstrap percolation" | Hamed | 14h | LINC |
| 25/10/10 | "Poisson approximations" | Yogesh | 14h | LINC |
| 22/11/10 | "The push algorithm for broadcasting and the geometry of graphs" | Nikolaos Fountoulakis (MPI) | 14h | Rose |
| 29/11/10 | "Poisson Hypothesis for Infinite Generalized Jackson Networks" | Alexander Rybko (IPIT) | 14h | Rose |
| 13-14/12/10 | "Spectra of diluted random graphs" | Justin et Marc | | IHP |
| 20/12/10 | "Loss networks and Markov random fields" | Marc | 14h | LINC |
| 10/2/11 | "Boolean functions" | Yogesh | 14h | LINC |
| 17/2/11 | "Discrete Fourier analysis" | Marc | 14h | LINC |
| 3/3/11 | "Hypercontractivity and Applications to Noise Sensitivity" | Yogesh | 14h | Orange 1 |
| 10/3/11 | "Application to percolation" | Yogesh | 14h | LINC |
| 8/4/11 | "Phase transitions and computational complexity" | Amin Coja-Oghlan (University of Warwick) | 11h | Rose |
Pour cet été, c'est Stéphane qui reprend la main. Suivez le lien!
Voici un début de liste de livres/articles. L'ordre est assez aléatoire!
Merci de m'envoyer vos suggestions!
Livres:
Janson, Luczak and Rucinski, "Random Graphs".
Alon and Spencer, "The Probabilistic Method".
Mézard and Montanari, "Information, Physics and Computation".
Grimmett, "Probability on graphs".
Presutti, "Scaling limits in Statistical Mechanics and Microstructures in Continuum Mechanics".
Aldous and Fill, "Reversible Markov Chains and Random Walks on Graphs".
Levin, Peres, Wilmer, "Markov Chains and Mixing Times".
Welsh, "Complexity: Knots, Colourings and Counting".
Surveys:
Jordan and Wainwright, "Graphical models, exponential families, and variational inference".
van der Hofstad, "Random Graphs and Complex Networks".
Wormald, "Models of random regular graphs".
Saloff-Coste, "Lectures on finite Markov chains".
Jerrum, "Counting, sampling and integrating: algorithms and complexity".
Garban and Steiff, "Noise sensitivity and percolation".
Kalai and Safra,"Threshold Phenomena and Influence".
Hoory, Linial, and Wigderson, "Expander graphs and their applications".
Mossel, "Survey: Information flow on trees".
Statistique:
Jordan and Sejnowski (ed.), "Graphical Models".
Johnstone, "On the distribution of the largest eigenvalue in principal components analysis".
Amini and Wainwright, "High-dimensional analysis of semidefinite relaxations for sparse principal components".
Candes and Tao, "The Dantzig selector: Statistical estimation when p is much larger than n".
Drineas et al., "Clustering in large graphs and matrices".
Algo:
Arora and Barak, "Computational Complexity: A Modern Approach".
Papadimitriou and Steiglitz, "Combinatorial optimization".
Schrijver, "Combinatorial optimization : polyhedra and efficiency".
Boyd and Vandenberghe, "Convex Optimization".
Vazirani, "Approximation Algorithms".
Graphes:
Godsil and Royle, "Algebraic Graph Theory".
Colin de Verdière, "Spectres de graphes".

Return home