ACNS '09 - June 2-5, 2009
Paris-Rocquencourt, France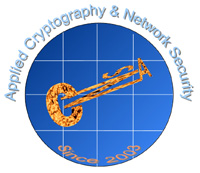 ACNS is an annual conference concentrating on current developments that advance the areas of applied cryptography and its application to systems and network security. The goal is to represent both academic research works as well as developments in industrial and technical frontiers.
ACNS '09, will be the 7th International Conference on Applied Cryptography and Network Security. It will bring together industry and academic researchers interested in the technical aspects of cryptology and the latest advances in the application of crypto systems.
ACNS '09 is organized by INRIA, CNRS and ENS, in France, in cooperation with the International Association for Cryptologic Research and will be held at INRIA Paris-Rocquencourt, near Paris, France, on June 2-5, 2009.
Shuttles will leave from Paris - Place de l'Etoile (see the red mark on the map)
at 7:45am each morning.
The proceedings are published by Springer-Verlag in the Lecture Notes in Computer Science, volume 5536
The Workshop on Cryptography and Security for Embedded Systems organized by the ANR/SSIA Project CrySCoE will be colocated with ACNS '09, on Friday June 5th, in the afternoon.