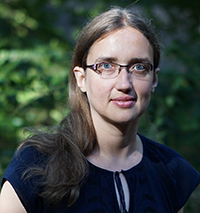 ''Wisdom is to have dreams big enough not to lose sight when we pursue them.'' (Oscar Wilde)
Ana Bušić
Researcher at Inria (Unité de Recherche de Rocquencourt) and ENS (Département d'Informatique)

Research Group: DYOGENE


Contact Information
Inria
23, avenue d'Italie
CS 81321
75214 Paris Cedex 13

E-mail: ana.busic@ens.fr
Phone: +33 (0)1 3963 5523
Research Interests
Modeling and analysis of stochastic systems
Markov chains:

Algorithms for large Markov chains (chains with a specific structure, closed form bounds, aggregation techniques, censored Markov chains).
Analysis of underspecified Markov chains (chains with unknown parameters, bounds for families of Markov chains).
Markov reward and Markov decision processes.
Simulation (perfect sampling).
Stochastic networks (stability, performance, control).
Performance evaluation of communication networks.
Smart-grid: integration of renewable energy and demand-response.
Probabilistic cellular automata.
Most recent talks
Ongoing Projects
Past Projects
Teaching
2014/2015
Fondements sur la modélisation des réseaux (M2), MPRI
2013/2014
Fondements sur la modélisation des réseaux (M2) MPRI
2012/2013
2011/2012
Réseaux de communication, première année (L3), ENS
Conception d'algorithmes et applications (LI325), UPMC
2010/2011
Réseaux de communication, première année (L3), ENS
Conception d'algorithmes et applications (LI325), UPMC
2009/2010
Conception d'algorithmes et applications (LI325), UPMC